If you build it, they will come
Revelutionary Training, Mentoring and Education
Revel Realty Inc. has revolutionized, professionalized, and energized a proven educational program for new and experienced realtors that builds and reinforces successful careers in the real estate industry.
Choosing Revel as your brokerage is selecting a set of expectations, intense training, nurturing mentorship and peer support in a state of the art facility designed to offer a modern curriculum of real estate education with hybrid hands on training and direction.
Famous for its branding and marketing savvy, Revel is equally as proud to invigilate its realtors with aggressive marketing strategies, personal branding initiatives, creative planning campaigns, on-site mentoring consultations, and a social context that makes every effort worthwhile and enjoyable.
This creative and innovative approach has transformed Revel Realty Inc. into a self-sustaining enterprise fortified by the quick progress and success rate of its realtors.
REVEL ED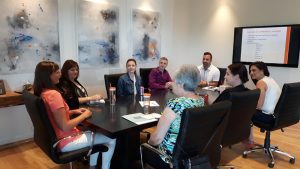 Revel Ed. is not your typical rigid educational structure. It integrates essential education developments with work in progress experiences, at the same time emphasizing fun and social team building. Currently, Revel Ed. functions on the following schedule:
Monday and Thursday Mentoring (weekly)– A full curriculum devised by a committee led by the broker of record offers a week to week mentoring lessons with embedded assignments designed to generate leads, diversify business, and launch marketing campaigns.
Teaching Thursdays– Education in this context is centered on current and relevant real estate topics.
New Development Meetings (weekly)– realtors are exposed to new build construction and new development projects in order to accomplish an alternative stream of business.
Synergizing Meetings– brainstorming with top realtors
Friday Frenzies– Office team building, social activities, i.e. parades, dinners out, celebrating holidays, bonding activities.
Revel Team Time Outs in the Court– staff assemblies designed to further business leads, team marketing campaigns, listen to guest speakers and discuss community-based projects.
Revel takes care of it's own but emphasizes individuality, new ideas and creative approaches geared towards growth in real estate expertise.